What is Scalp Micro Pigmentation?
Modern Permanent Hair loss Solution
Scalp Micro Pigmentation is the only permanent hair loss solution that gives you immediate results. You might be wondering how we can accomplish these amazing, permanent results. At NuHair Ink we use advance micro impression to create natural and flawless results.
SMP is a technology that takes countless hours to master. Our staff has dedicated hundreds of hours making sure we have the training and certifications to guarantee life changing results.
These services include, full hair fillers for women as well as treating male pattern baldness. We have been able to become a leader in the industry with our hair transplant scar camouflaging treatments.
We are the only provider that offers free touch ups to make sure you're always looking your best, even after years have passed!
We want to help you end your hair loss battle. Our meticulousness and obsessive passion for our art makes us extraordinary among the many other providers of scalp micropigmentation in Sacramento and nationwide. This is why we are able to provided free touch up.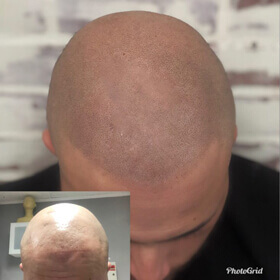 Scalp Micro Pigmentation will put a stop to your hair loss problems and will give you instant permanent results.
Scalp Micro Pigmentation is the perfect solution for balding, concealing scars, alopecia, and densifying thin hair.
Scalp Micro Pigmentation is the perfect solution for man or woman
Why NuHair Ink?
Permanent Hair Loss Solution
No Additional Maintenance Costs
Free Touch Ups
You Can Make Adjustments At Any Time
The Most Experienced Technicians
100% Financing Approval
6 Months No Payments If Qualified
FORGET ABOUT
HAIR LOSS
What are you waiting for, book your free consult today and discover what NuHair Ink can do for you.
Our consultations are 100% free, no obligation and extremely informative.
Scalp Micro Pigmentation will provide permanent instant results at a very affordable cost.
Our goal is to change the way you feel about hair loss.
We specialize in all types of hair loss.

We have been able to help many clients like you and have been featured on Fox 40 as a provider that treats patients battling cancer, sensitive skin, or sun spots.